Centro de Español of Universidad Viña del Mar (UVM) has been accredited by Instituto Cervantes, which means it meets the conditions set by the Instituto Cervantes Accreditation System for Centres, the only international accreditation exclusively focused on the teaching of Spanish as a foreign language.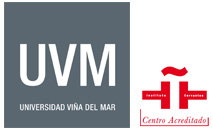 Since 2010, Spanish Center was created as part of the International Cooperation Office.
We offer a Semester in Spanish, Intensive Spanish Program, Spanish for Specific Purposes including Tailor Made Programs, DELE preparation courses and a Graduate Diploma. Our areas are idiomatic, training, focused on Chilean and Latin American culture, indigenous peoples in Chile, addressed for foreign and local students. All our courses meet the standards evaluated by the Accreditation System of Instituto Cervantes (SACIC), and are aligned with the Common European Framework of Reference for Languages ​​(CEFR) and the Curriculum Plan of Instituto Cervantes (PCIC).
Spanish Center Programs
Since 2013 the Spanish Centre in Universidad Viña del Mar (UVM) is one of the two Spanish Centres accredited by Instituto Cervantes from Spain. In our centre, we offer both semester-long and intensive Spanish language courses and elective courses focused on Chilean and Latin American Culture for International Students. These courses are aligned and accredited by the Common European Framework of Reference for Languages (CEFR).
Our Mission
Provide to our students the linguistic and intercultural knowledge for personal, academic and professional training, combining teaching methodologies with cultural and leisure activities. This multilingual and social environment allows our students to develop as social agents, autonomous learners and intercultural speakers.
Our Vision
To be a competitive Center of teaching of Spanish as a foreign language, committed to academic excellence and quality service, standing out a continuous improvement and its relevant role as part of UVM, a reference of quality at a national and international level.
Our Values
Sense of belonging to our university community.
Professional ethics and respect for people and institutions.
Tolerance to the diversity of opinions, culture and visions of the world.
Open attitude towards changes from educational innovation.
Leadership, initiative and professionalism in the development of all Center's activities.
---
Services provided.
Included in programs prices.
Spanish placement level test oral and writing.
Round trip airport transportation from Santiago International Airport.
Academic and cultural orientation upon arrival.
Cultural activities.
Volunteer programs at institutions in Viña del Mar and Valparaíso.
Virtual and in campus classes.
Not included in the price.
Housing (paying program-more information:

[email protected]

).
DELE: Spanish certification test and preparation courses.
For more information contact us: [email protected]
Important information
To apply to our programs, you must click on each section indicated above and fill out the online application form within the application time.
Be aware that each program indicates the minimum enrollment number to be able to offer them.
Download here the Cancellation Policy applied to our programs.
Online payment by credit card is available. Download here the instruction guide.
If you want to apply to the Host Family Program for accommodation with a Chilean family during your stay, select the program in the Programs Application Form.
Relevant information to travel to Chile
Any person who travel to Chile to study with us must process their student visa at the respective Embassy or Consulate if:
Register a program which requires a stay longer than 90 days in Chile.
Requires a visa to enter to Chile.
The visa process has to be requested once we send the instructions along with the official acceptance letter to the enrolled Program. It is important to consider that the program's payment must be received in order to obtain the acceptance letter.
*For programs that requires less than 90 days in Chile, a student visa is not required for those who don't require a visa to enter to Chile.