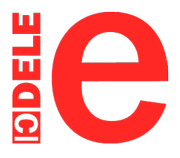 Our Spanish Center is a DELE Examination Center of Instituto Cervantes which provides also preparation courses for the test.
The Center participates in the call of every November.
What is DELE?
The Diplomas DELE are official titles accrediting the degree of competence and domain of the Spanish language, granted by the Instituto Cervantes on behalf of the Ministry of Education and Vocational Training.
More information of DELE here.
These titles are officially known and recognized at the international level and have earned a great prestige not only among the institutions and educational authorities, public and private ones, but also in the business world. They are an official guarantee in the evaluation and certification of language proficiency in Spanish.
Advantages you got when you have a DELE Diploma
Official title of The Ministry of Education and Vocational Training of Spain given by Instituto Cervantes
It has an indefinite validity and international recognition
You can use it for academic and professional purposes
What do you need to apply?
Copy of the passport or ID
Payment (more information with the Coordinator)
You can review here the level you need to certify: Levels classification